From vast landscapes and giant glaciers to sly foxes and posing seals, we share some of the myriad reasons to visit Svalbard in the Arctic
Known as the last stop before the North Pole, Svalbard proved to be the Arctic we had always imagined: midnight sun, gleaming glaciers and snowcapped peaks, a frigid ocean riddled with ice and extraordinary wildlife including walruses, sea birds and polar bears.
We visited the remote archipelago on an 8-day Svalbard expedition with Albatros Expeditions aboard the Ocean Atlantic where we sailed in the perpetual sunlight of the Arctic summer. Our route took us from the main town of Longyearbyen around the west coast of Spitsbergen, Svalbard's largest island, where we dropped anchor in sheltered fjords to make landings and Zodiac excursions.
We then headed north, towards the edge of the polar pack ice and within 800km (500mi) of the North Pole, before visiting Ny-Ålesund, the world's northernmost permanent settlement, on our way back to Longyearbyen.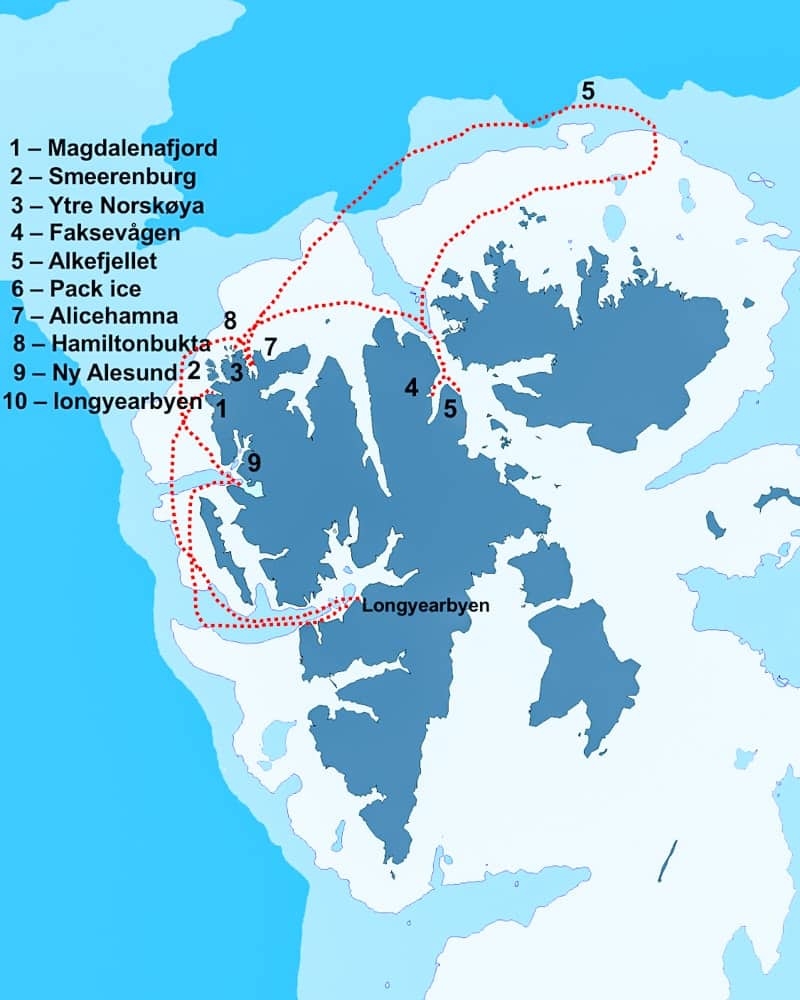 During our voyage, we made landings in remote idyllic bays, cruised on Zodiacs alongside colossal glaciers, kayaked among icebergs, plunged into bone-chilling water metres from pack ice and watched hardy wildlife resolutely go about its business in one of the harshest environments on Earth. We also reached 81°17'5", the furthest north we'd ever been – all in all, a ground-breaking trip.
20 reasons to visit Svalbard
Having visited Antarctica, Greenland, Iceland and northern Norway, we were unsure how Svalbard would compare. In the end, what is one of Europe's last great wildernesses was everything we imagined: remote, untamed, pristine and raw. This was frontier land at its purest.
Everyone will have different motivations for the trip (polar bears!), but here are our top reasons to visit Svalbard, starting from the moment we arrived in the capital.
1. The 'Longyear Town'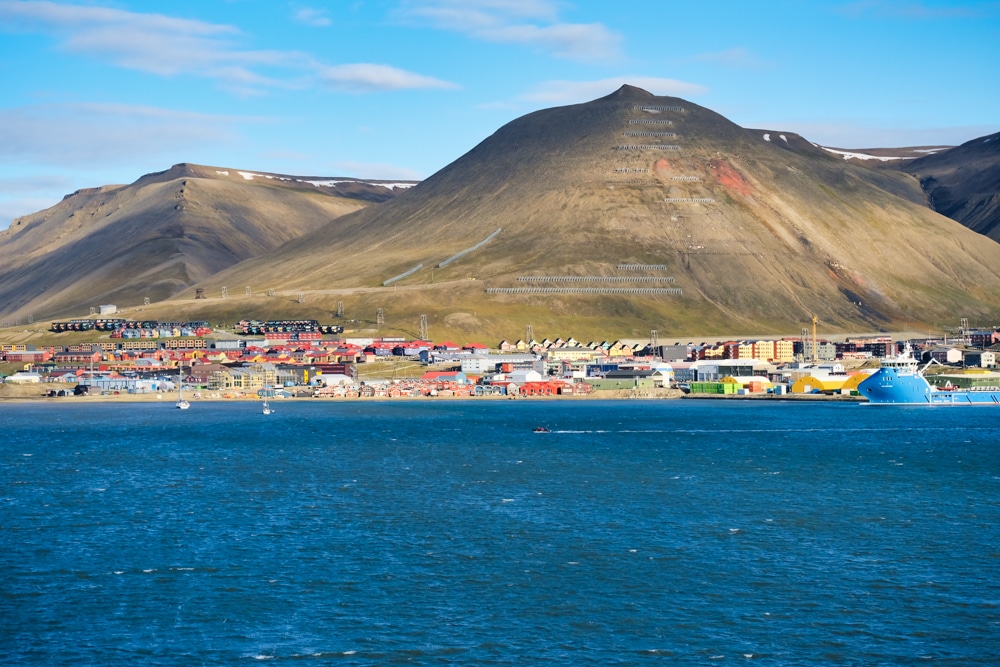 Longyearbyen, Svalbard's most populous settlement and de facto capital, was named after American John Munro Longyear who established the town after his Arctic Coal Company began mining the region in 1906. Known as the 'Longyear Town', Longyearbyen is the world's northernmost settlement with a population greater than 1,000.
Its colourful buildings are fringed by hulking mountains and two glacier tongues, but Longyearbyen is seldom described as beautiful. What makes it so alluring is what it promises; a gateway to a sub-polar world of magical seascapes and remarkable wildlife. The 'Longyear Town' is where the adventure begins.
2. Unusual road signs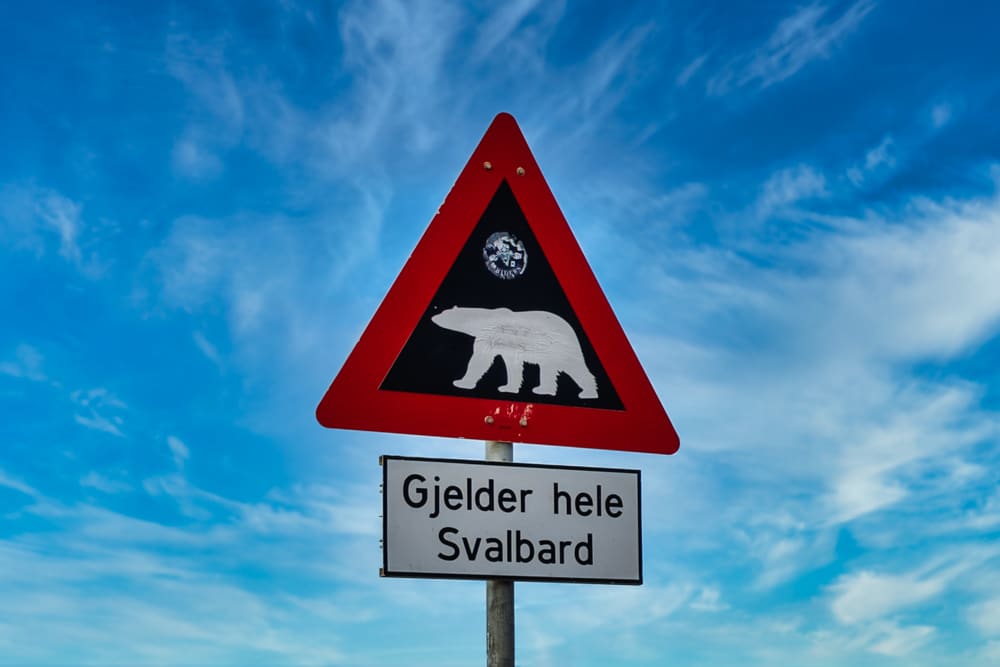 You know you're somewhere different as soon as you arrive in Longyearbyen and drive the road from the airport into town. Around the world, a red triangular road sign lets you know you're approaching a hazard. Perhaps the road will narrow, is slippery, is merging with traffic or there is a zebra-crossing ahead.
But in Svalbard, things are different. There is so little traffic in a town of just 2,368 people that there are rarely road hazards ahead. Instead, this is polar bear country where visitors are routinely warned to be aware and not to leave the confines of the capital without a trained guide. 
3. SANDY BEACHes strewn with ice 'cubes'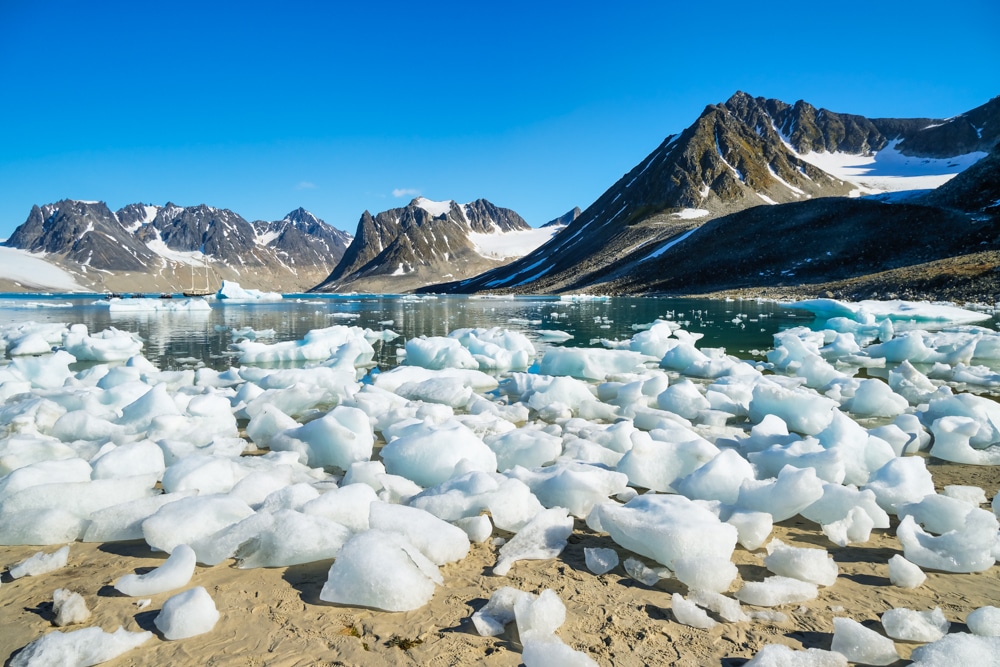 Our first landing was at Magdalenefjord on the west coast of Spitsbergen where we found a sandy beach strewn with giant ice 'cubes'. The strange shapes and structures, hewn by the elements, are the remnants of icebergs and drift ice washed ashore in the idyllic fjord. It's easy to see why Magdalenefjord with its spectacular blue-green bay surrounded by dramatic peaks and glaciers is one of Svalbard's most popular anchorages.
4. Attending the Captain's party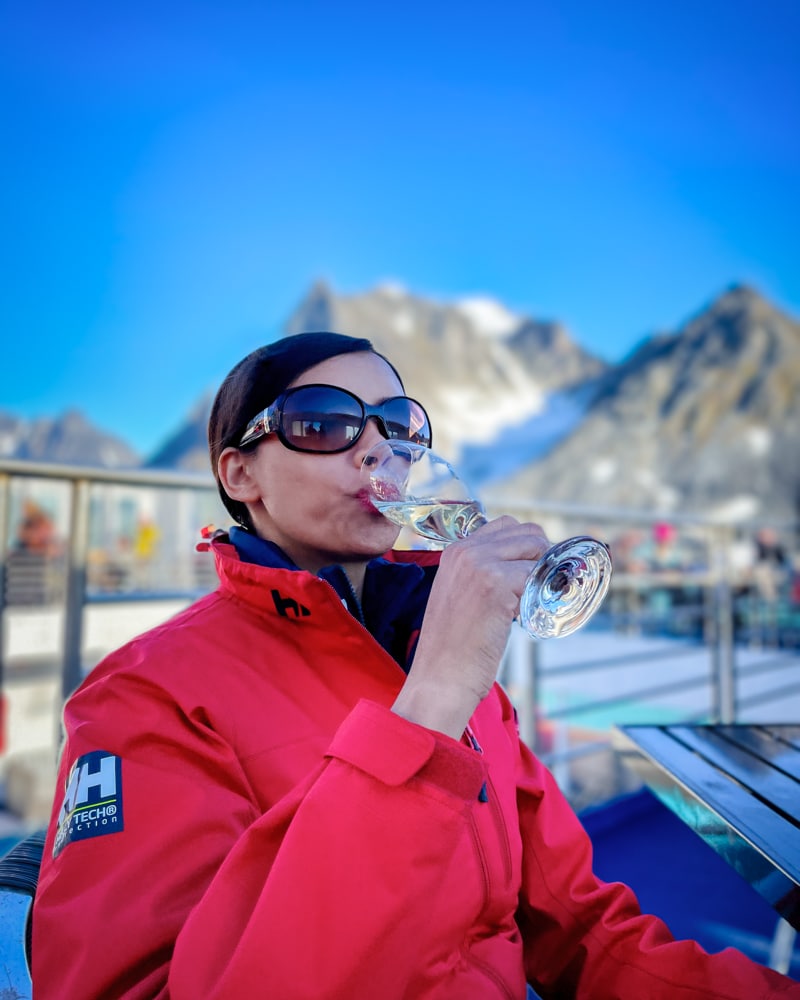 Atlas & Boots
A glass of champers at the captain's party
Back aboard, passengers and crew gathered at the stern of the ship for canapés and a glass of champagne. The captain and his officers arrived and after a short welcome speech, we raised our glasses and toasted the captain and his crew. Kia and I quietly toasted for a second time as, due to our twice-postponed Antarctic voyage which had eventually taken place earlier this year, we had now crossed both the Antarctic and Arctic circles in a calendar year.
5. Sipping Cocktails under the Midnight sun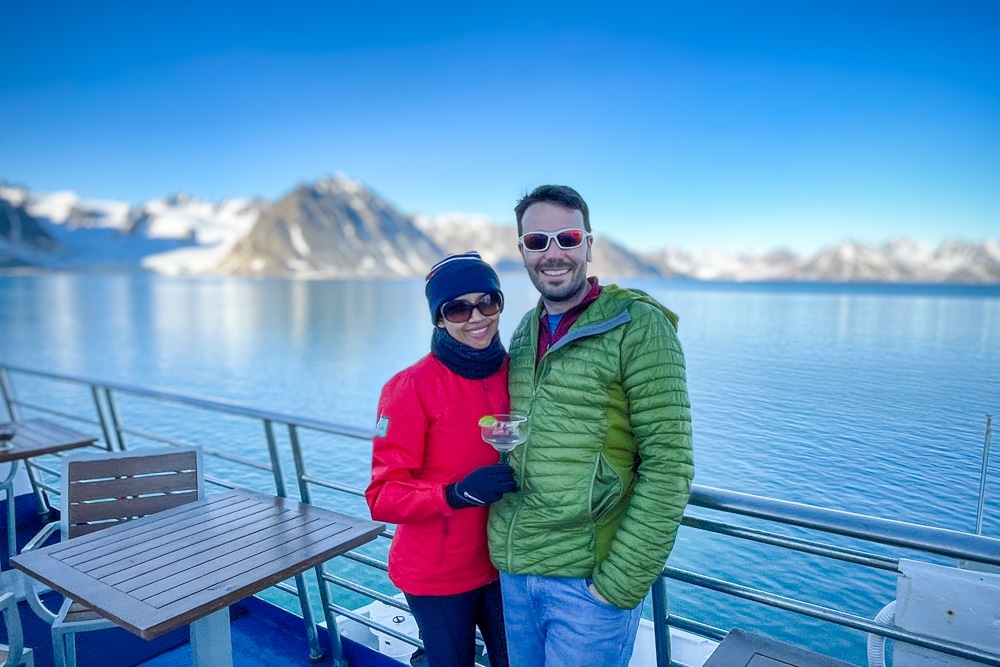 As the evening drew on, we found ourselves unusually energetic, not realising that it was well past midnight. You see, on other trips during which we saw the midnight sun – in the Faroe Islands and Antarctica – it hung low against a gloomy sky. In Svalbard, however, it was high, bright and blazing – strong enough for me to reapply sunscreen at midnight! It was also deeply disorientating. Eventually, after one too many cocktails, we forced ourselves to bed despite our bodies still thinking it was daytime. 
6. The Walruses of Smeerenburg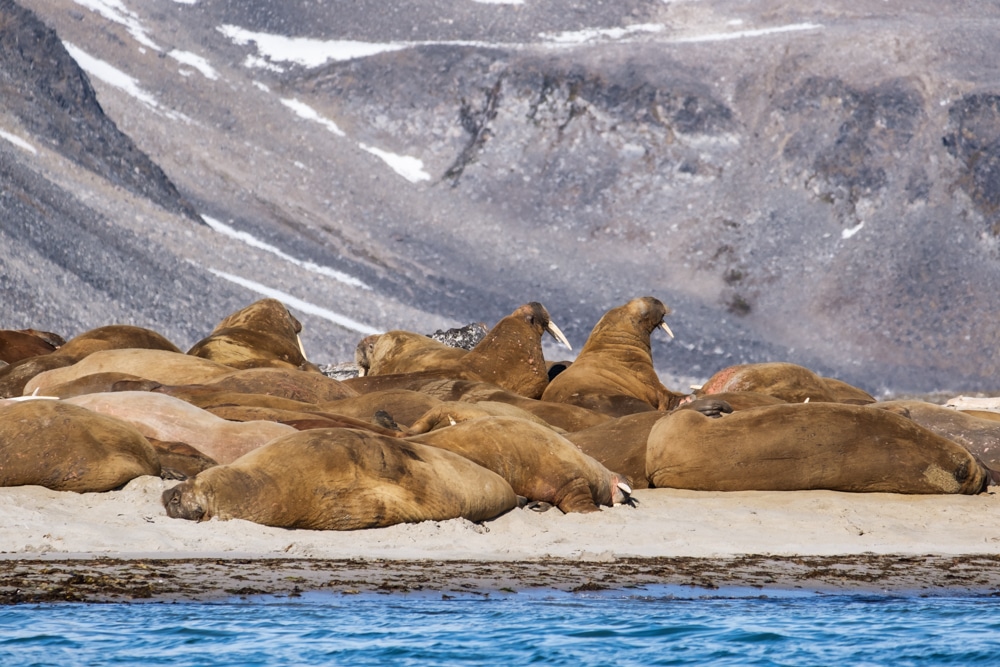 Our second landing was at Smeerenburg (meaning Blubbertown), an abandoned settlement in northwestern Svalbard which was a Dutch whaling centre during the 17th century. In its heyday, it had a summer community of 200 people assembled to hunt and harvest the blubber of the Greenland right (bowhead) whale.
Today, it is a popular spot for walruses. We watched them from a distance on land and then took a closer look at the huddle from our Zodiacs. These unlikely creatures are weirdly arresting: bulbous and unwieldy and yet somehow majestic. Found only in the far north of the planet, walruses are highly sensitive to noise. Any sign of danger can cause them to stampede into the water. As such, we had to keep our voices down throughout our visit to Smeerenburg.
7. Spotting a Polar bear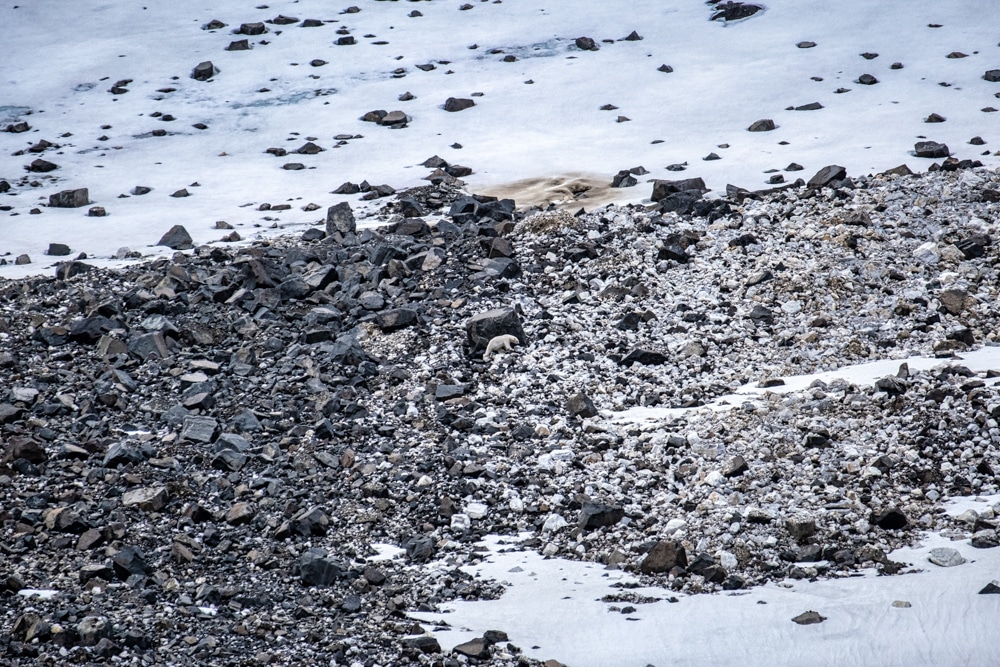 Atlas & Boots
Our sole polar bear sighting
On the fourth day, Kia and I were settling into the Viking Lounge for a post-lunch cup of tea when an announcement sounded over the tannoy: a polar bear had been spotted off the stern of the ship. We lept into action, pulling on our layers and hurrying out on deck.
At first, the polar bear was impossible to spot with the naked eye, but when it ambled past a rock, its bright white coat came into focus. Soon, we loaded into the Zodiacs to take a closer look. Alas, the polar bear promptly fell asleep so we didn't see it in motion. This was to be the sole polar bear of our trip and although it wasn't like the crystal clear pictures of the BBC, we felt lucky to have seen it. 
8. Arctic Terns fishing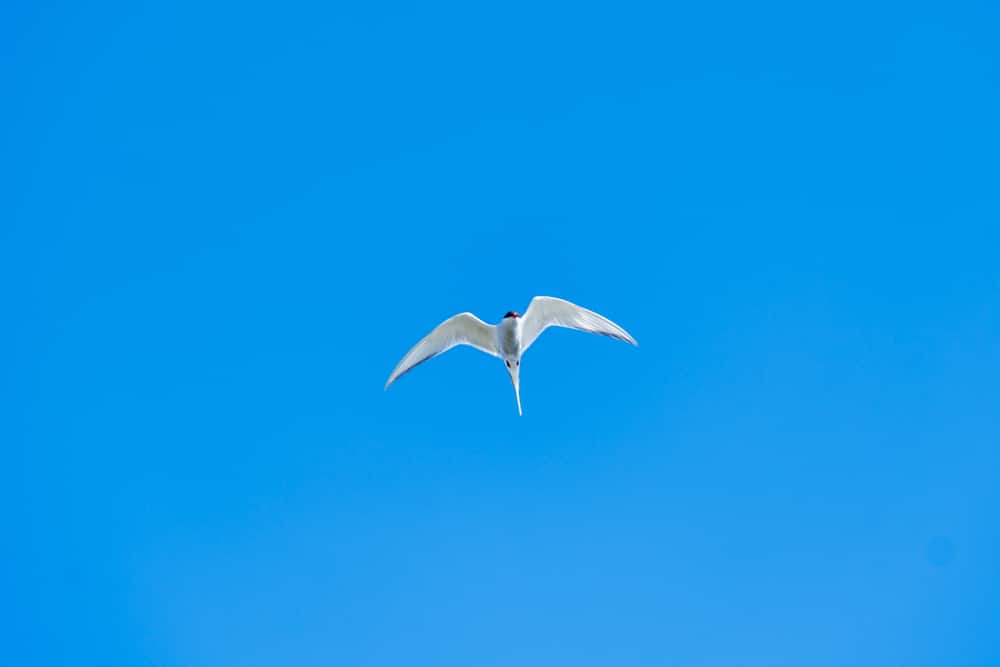 Atlas & Boots
An Arctic tern in Svalbard
During our Zodiac cruise around Smeerenburg, we visited a colony of Arctic terns. Due to its long tail streamers and slender shape, the Arctic tern is also called the 'sea swallow'.
Arctic terns are known for their huge migrations, covering around 40,000km (25,000mi) from their Arctic breeding grounds to Antarctica where they enjoy the southern summer. They also make for excellent fishers. We watched one deftly diving into the water to nab a small fish before returning ashore to its nest.
9. Cutting through the Pack ice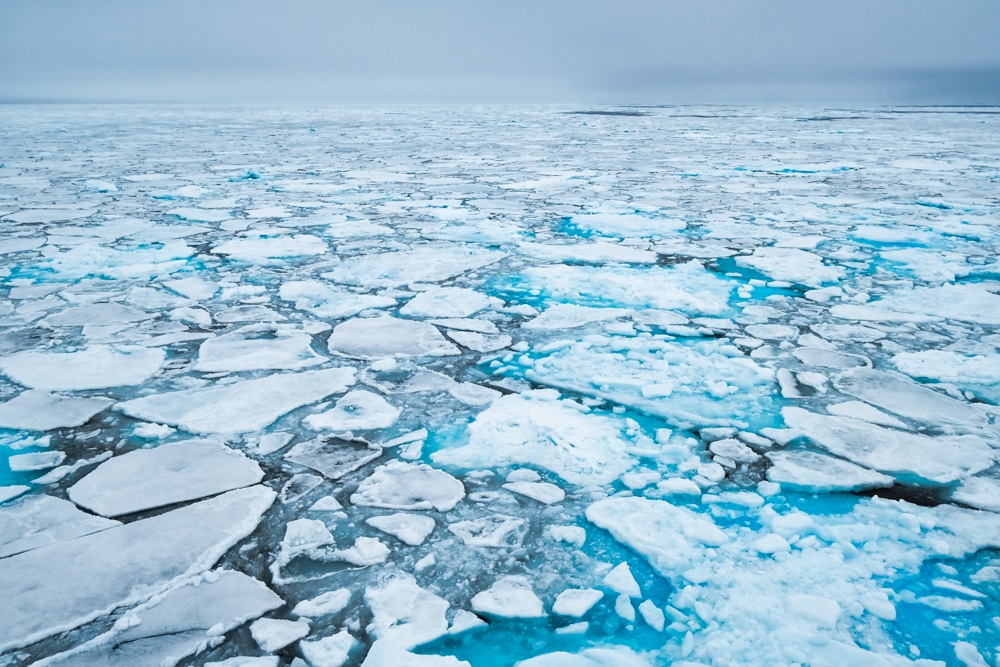 Atlas & Boots
Cutting through the pack ice
During our voyage, we reached 81°17'5", the furthest north our ship, the Ocean Atlantic, had reached all season and within just 800km (500mi) of the North Pole. It was also the furthest north we'd ever been.
As we rounded the north coast of Svalbard, the horizon quickly changed. Gone were the craggy snow-capped mountains and glaciers plunging into the sea; instead, the Arctic Ocean spread out before us with sheets of pancake pack ice hypnotically drifting on its surface.
The surface waters around the Arctic freeze during the winter into a thick slab of ice, effectively making the ocean impassable. As the slab begins to thaw in the spring and summer, it breaks up into an arresting expanse of pack ice.
10. making the Polar plunge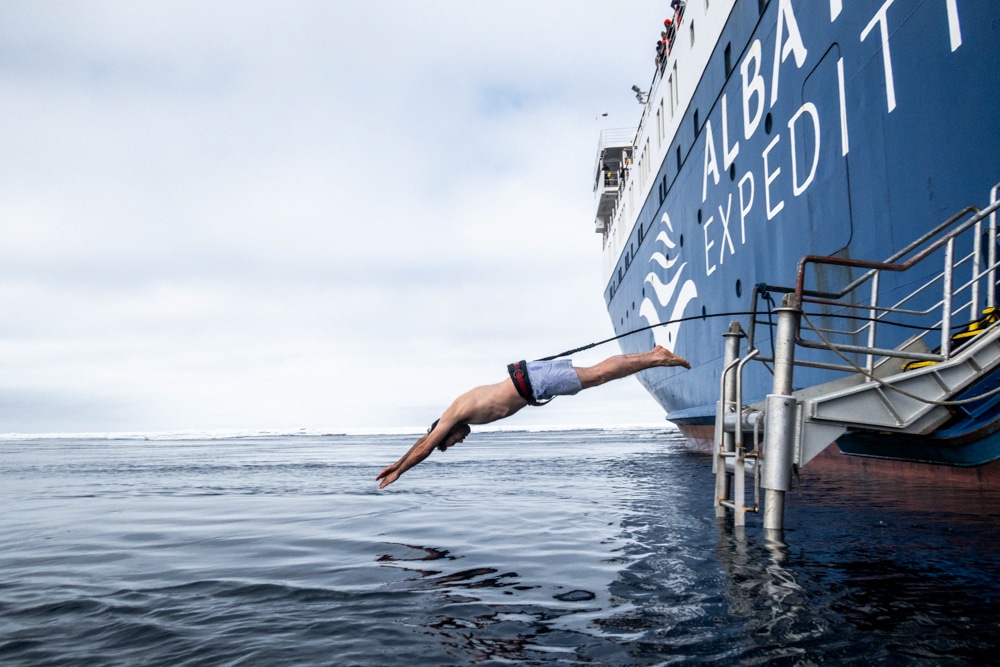 The Polar Plunge is a fearsome rite of passage for visitors to the Polar regions and entails jumping into near-freezing water (1-2°C). We did a shore plunge as part of our 10-day expedition to Antarctica, which was fun but not as thrilling as plunging from the ship.
We were delighted when the captain announced we could make a Polar Plunge from the ship while pack ice drifted mere metres from the hull. It was certainly different and undoubtedly colder!
11. Counting GUILLEMOTS by the thousands
12. Watching an Arctic fox hunt
While at Alkefjellet, we witnessed one of the best moments of our trip: an Arctic fox hunt. These creatures have evolved into excellent killers. Their fur is white in the winter but turns grey-brown in the summer to help with camouflage. 
We watched as a wily fox bounded down an impossibly steep cliff and crept into a nest of guillemot eggs. It plucked one up between its teeth and bounded off to bury it. Moments later it repeated the trick, each time sending a flurry of birds screeching. In total, it managed five or six kills – the circle of life played out before our very eyes. 
13. Immense glaciers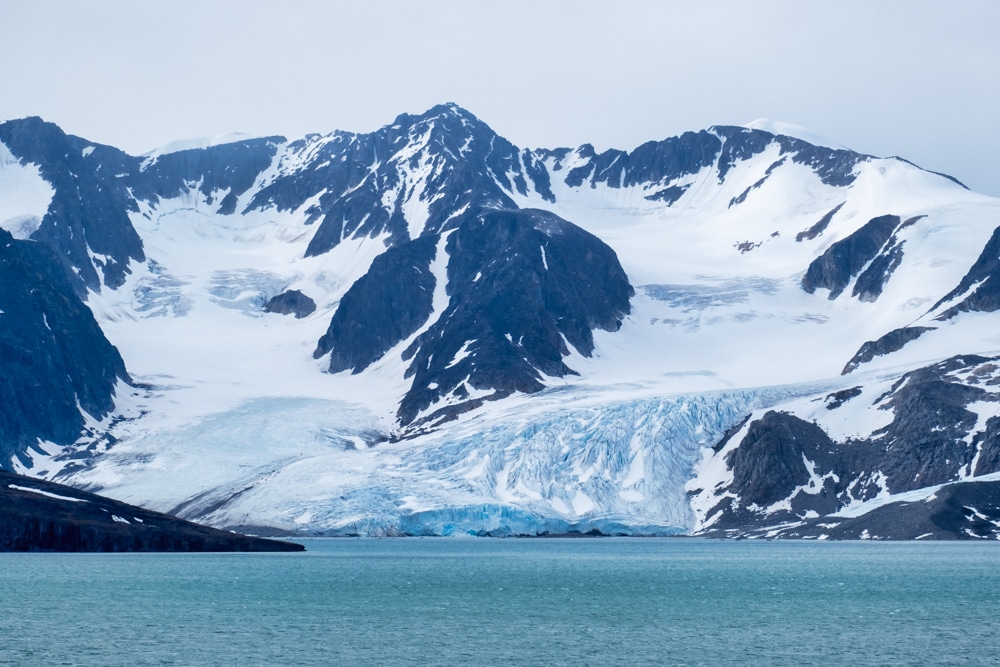 Atlas & Boots
Glaciers galore
Unsurprisingly, ice is never far away in Svalbard – even during the summer. In fact, there are over 2,100 glaciers in Svalbard covering around 60% of the total area. Some, such as Austfonna on Nordaustlandet (Svalbard's second-largest island), are so big they're officially classed as ice caps – only Greenland and Antarctica have larger sheets of ice.
These panorama-defying sheets of ice are at their most sensational when they meet the sea. Here, car-sized chunks of ice audibly calve away from the face of the glacier and thunder into the sea, morphing into fairytale icebergs sculpted by the waves. During our voyage, we saw dozens of such glaciers, each one with its own unique form, each one magnificent.
15. Kayaking between icebergs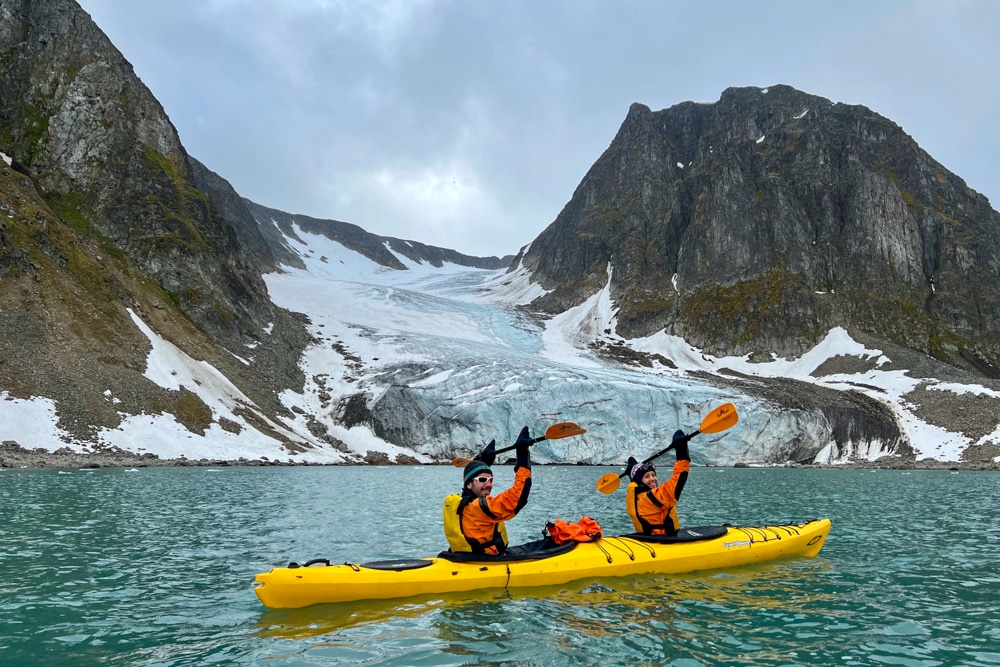 Atlas & Boots/Werner Kruse
Kayaking at Hamiltonbukta
Kayaking at Hamiltonbukta (Hamilton Bay) was another highlight of the voyage. After wriggling our way into a heavy-duty dry suit, thick gloves and booties, we motored out to the fjord and were soon paddling in surreal surroundings.
At one point, our guide stopped us and asked us to close our eyes for a minute of quiet reflection. The only sound was the clink of ice chunks – known as 'bergy bits' – bouncing off each other. In an action-packed expedition, these precious moments of stillness helped us appreciate the true magic and magnitude of nature in the Arctic.
18. Posing seals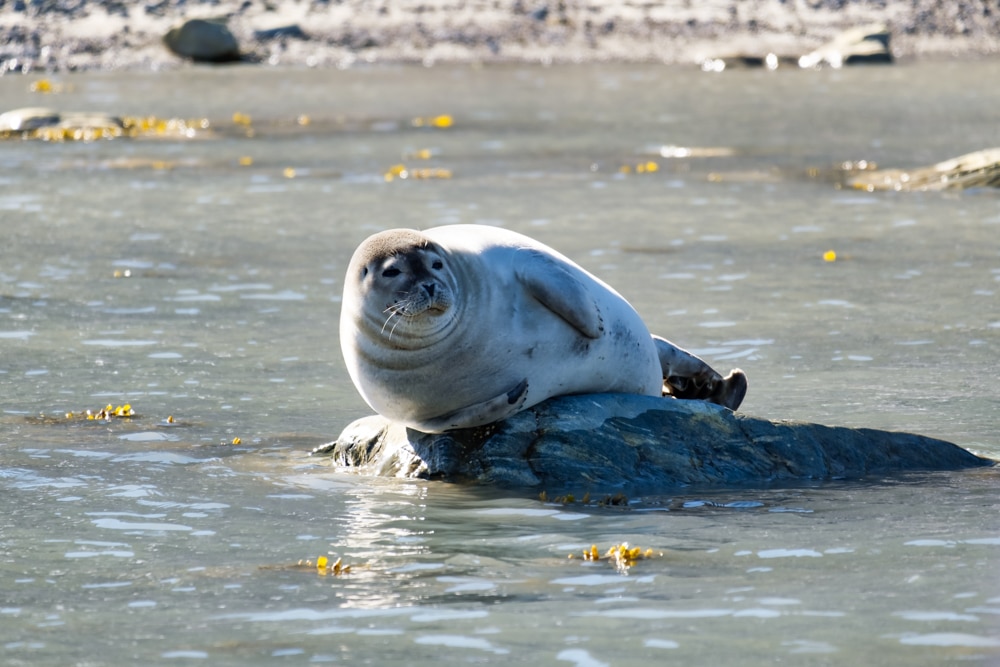 Svalbard is home to a number of seal species including bearded, harp, ringed and harbour. With their thick layers of insulating blubber, true seals (otherwise known as earless seals) are well adapted to these icy waters. Unlike their Antarctic relatives, Arctic seals are hunted relentlessly by a land-based predator: polar bears.
As such, you rarely see Arctic seals lounging on land. Instead, they prefer to rest on sea ice, icebergs or, as we frequently witnessed, on lone rocks. Here, they constantly shift, keeping an eye on their surroundings for furtive polar bears. We spotted several seals during the voyage, each one striking the same pose.
19. A window into Svalbard's dark past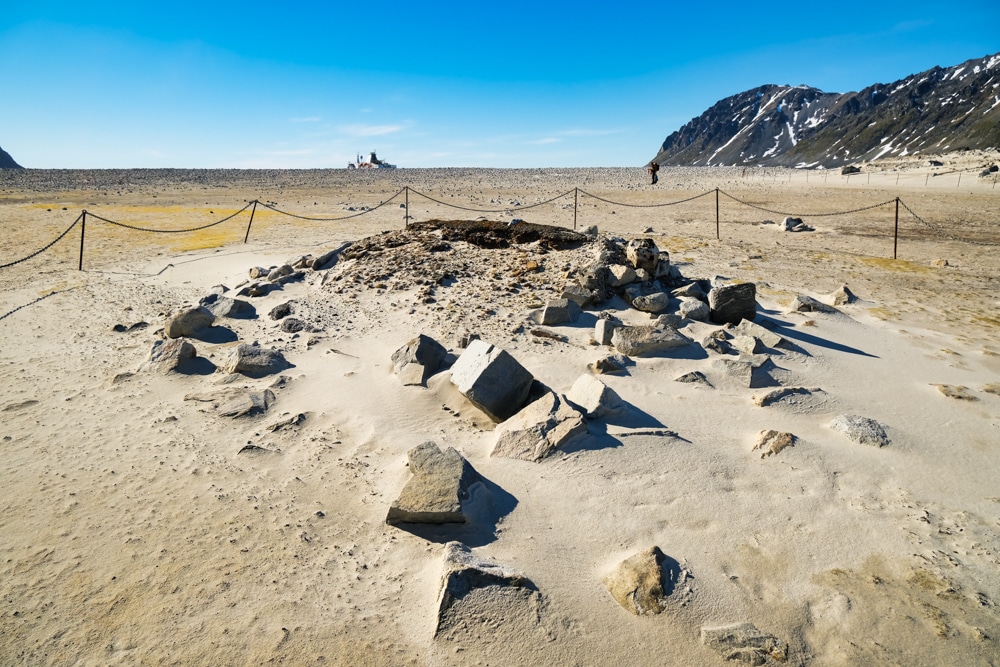 Svalbard was discovered by the Dutchman Willem Barentsz in 1596 and, soon, reports of the large numbers of whales, seals and walrus in its waters reached seafarers back in Europe. By 1612, systemic whaling in Svalbard had begun leading to the decimation of local whale populations. Numbers to this day have still not recovered.
Evidence of Svalbard's whaling heritage can be found in many places including the remains of stoves used to boil the blubber at Magdalenefjord and Smeerenburg. Sadly, Norway continues to hunt whales – one of just two remaining countries (the other being Japan) after Iceland announced that it would cease its commercial whaling practices by 2024.
20. Visiting The world's northernmost settlement
Svalbard: the essentials
What: An 8-day expedition to Svalbard, the last stop before the North Pole with Albatros Expeditions.
Where: We stayed in a Panorama Window Suite on the Ocean Atlantic. Albatros Expeditions' future trips to the Arctic, however, will be aboard the new Ocean Albatros. With a total of 95 staterooms and suites, all with unobstructed sea views, most with their own balcony, the Ocean Albatros will be one of the greenest ships to venture to the Arctic. 
The Ocean Albatros has two restaurants, a wellness area, a bar, an open deck dining facility and a modern lecture lounge as well as a unique panorama sauna and 12 dedicated solo cabins without a single-supplement.
When: The best time to visit Svalbard is June to July when the midnight sun is high in the sky and daylight never ends. June to July is also the best time to see polar bears in Svalbard. 
How: We visited on an 8-day expedition to Svalbard, the last stop before the North Pole. Prices start at $6,590 USD per person based on two people sharing. 
Discounts and promotions can be found close to departure dates. Check Adventure Life and Cruise Norway in the US, or Wildfoot, Swoop or Audley Travel in the UK.
Prices include all Zodiac cruises and landings, the Polar Plunge, rubber boot rentals, guiding and lectures, all meals on board and 24-hour tea and coffee. The kayaking excursion is extra, as is internet access though be warned that there is very little coverage given how far north you'll be!
We flew from London to Oslo and joined Albatros Expeditions' charter flight to Longyearbyen. Book your international flights via Skyscanner for the best prices.
---
Enjoyed this post? pin it for later…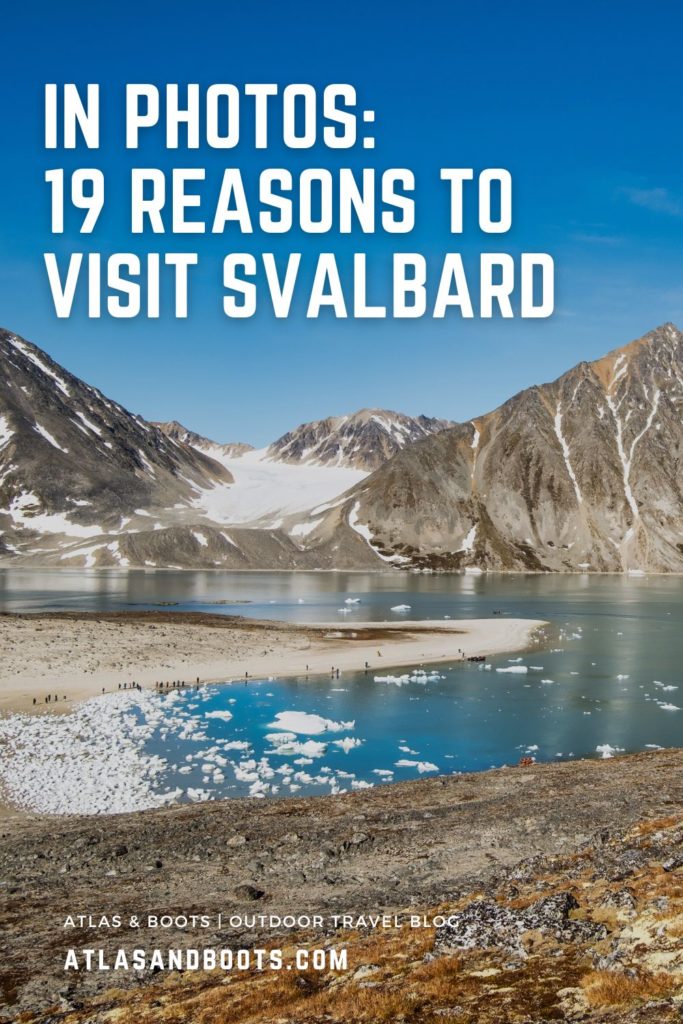 ---
Lead image: Atlas & Boots